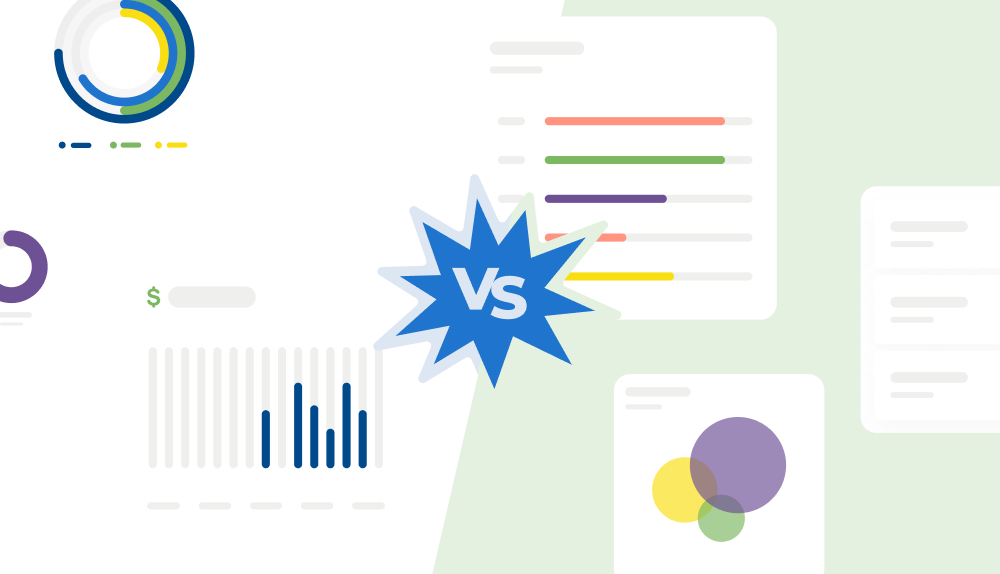 Last updated February 17th, 2023
Searching for software that's actually helpful? Feeling a little confused? Seeing too many abbreviations? Trust us, we get it. In order to save time down the road, it's important to spend the time now learning about the different options that are out there so you choose the right one for your professional services firm.
One of the questions often asked is what is PSA project management? Or what's the difference between professional services automation (PSA) and project management (PM) software? These two types of software are often confused because at their core they offer the same key values of getting your business more organized and increasing productivity. Where they differ is in the way they get this done and the resulting benefits.
In this helpful blog, we'll break down the difference between the two software and how to evaluate your existing needs to see which solution is the best fit for your firm.
Project Management (PM) Software
What is project management software?
Project management software for consultants is all about keeping projects running smoothly internally, and to help project managers efficiently plan, monitor and complete tasks. It provides an effective solution for managing projects more effectively so they stay on schedule, while maintaining accurate data in one system to optimize team collaboration.
Primary features of project management (PM) software include project task management to set deadlines, deliverables, and to assign team members responsibilities, as well as file sharing, and communications tools.
Why would I want project management software?
For services organizations that have many projects and deliverables to manage, project management software keeps your team organized. As a result of improved internal project workflows, you can expect to meet deadlines more efficiently and increase your clients' happiness with your work. This, in turn, may lead to higher profits if your team is more productive and creating stronger client relationships.
What industries/companies use project management software?
Engineering, marketing, creative, IT, architects, accounting, and consulting. Industries like IT Services that have specific project types and need a certain template to manage them, have specialized project management software, like Jira. These tools can integrate with PSA software, but more on that in a minute.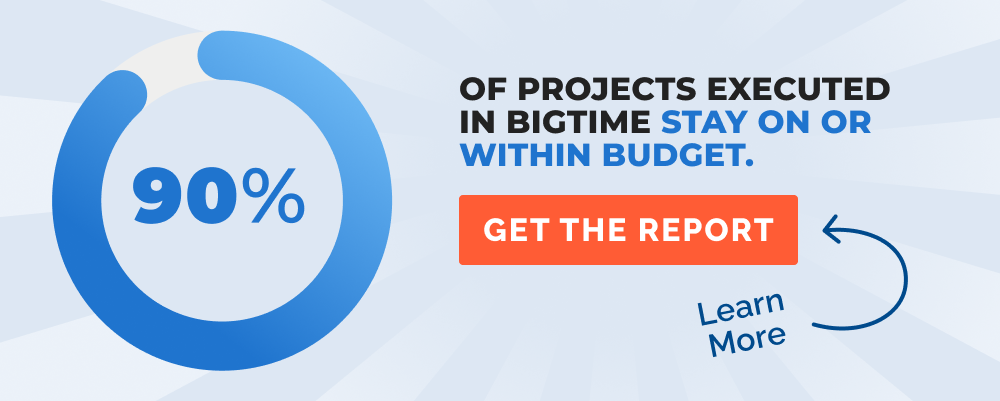 Professional Services Automation (PSA) Software
What is professional services automation software?
Professional Services Automation software helps build a smarter business strategy. Going a step further than just tracking the success of a project, PSA software is built to ultimately track and manage the operational efficiency and success of your business.
Features include some of the PM basics like project and task management and resource allocations, layered with time and expense tracking, budgeting, and invoicing and payment processing. Custom reporting can then be built off of the data captured within the tool to measure professional services KPIs (key performance indicators) that are important for evaluating the success and growth of your business.
Examples of this include: if projects are over budget or on track, where to allocate your team, what projects are turning the highest profit, and what gaps need to be filled to avoid a low revenue period.
Why would I want PSA software?
PSA software differs from traditional project management software in that it can provide an end-to-end solution for optimizing operational efficiency. It gives visibility into a firm's current and future resource needs, whether that's time, people, or money. PSA tools focus on automating and streamlining these processes so that your business can run more efficiently and productively to deliver great work.
If used every step of the way, PSA tools will benefit not only your employees' internal workflow struggles and give you company insights, but also improve your client relationships. Invoices will be more likely to be generated and paid on time, with accuracy, and in a customized format.
Designed with professional services firms in mind, PSA tools are best suited for firms that are looking for a solution ranging from time tracking and project management to collecting payments and allocating resources. With PSA software, companies can reap the benefits of having access to a ton of well-thought-out features that make things easier for everyone involved on the team.
The benefit is, if you are a professional services firm that meets the needs set for a PSA tool, the product will already be tailored to your use case with minimal time spent customizing.
Additionally, many PSA solutions integrate with other project management software and business applications for even greater efficiency. By having your project plan and budgets included in your time and expense software, for instance, you're able to invoice clients with the information they need to see. This also helps to improve project profitability.
What industries/companies use professional services automation?
Professional services automation (PSA) is ideal for professional services like accounting, engineering, architecture, marketing and creative, IT services, legal, government contracting, and consulting.
A Side-By-Side Comparison of PSA & PM Software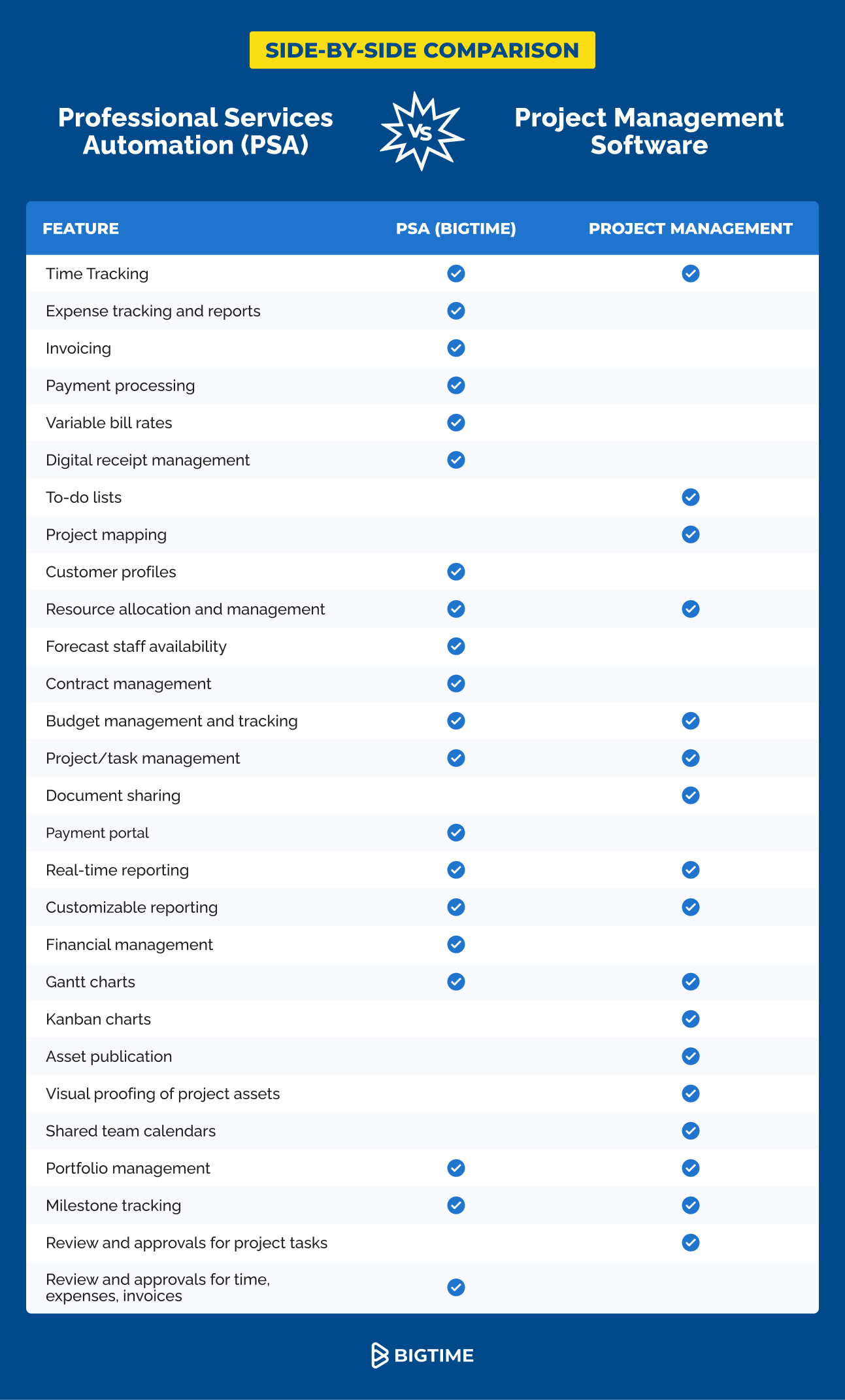 Professional Services Project Management Software Is Not One Size Fits All
Most project management software alone has a one-size-fits-all model that your company will then have to tweak and customize to your exact use case. While it's great for getting your team organized internally and keeping projects running smoothly, your firm will be missing out on important financial management capabilities and external-facing project reporting.
Without a PSA in project management, your company won't have access to game-changing features like the ability to set custom billing rates, forecasting staff ability, budget tracking, knowing what value to associate with different staffer hours, automating the generation of invoices, and collecting payment.
That's where the beauty of PSA software and integrations come into play. Like we mentioned above, being able to integrate different project management tools like Jira with a PSA like BigTime lets your team work in the tools best suited for them without missing important operational insights. (BigTime actually has a ton of integrations, including QuickBooks, Salesforce, HubSpot, Slack, and more.)
Long story short, project management and PSA solutions can work together as a team to dot all the i's and cross all the t's, from beginning to end — keeping everyone in the loop, both internally and externally.
PSA Software vs Project Management Software: Still Not Sure?
Finding the right solution(s) for project management at a professional services organization can result in significant improvements to managing projects effectively. From planning and execution to tracking progress and final deliverables, the right system can keep teams on budget and on track for success — paving the way for growth and increased profits.
We know that was a lot of information. Let us help you find the project management capabilities that work best for you and your company. Schedule a conversation today.

Frequently Asked Questions About PSA Project Management
What is PSA in project management?
PSA software in project management stands for professional services automation. It is software that's designed to manage and automate processes to optimize project delivery, profitability, and business growth.
What is professional services project management software?
Professional services automation (PSA) project management software is designed to manage operational efficiency across the business, not just to manage projects.
What is a PSA platform?
A PSA platform, or a Professional Services Automation platform, is a software solution designed to help professional service organizations manage their business operations to improve efficiency, productivity, and profitability.