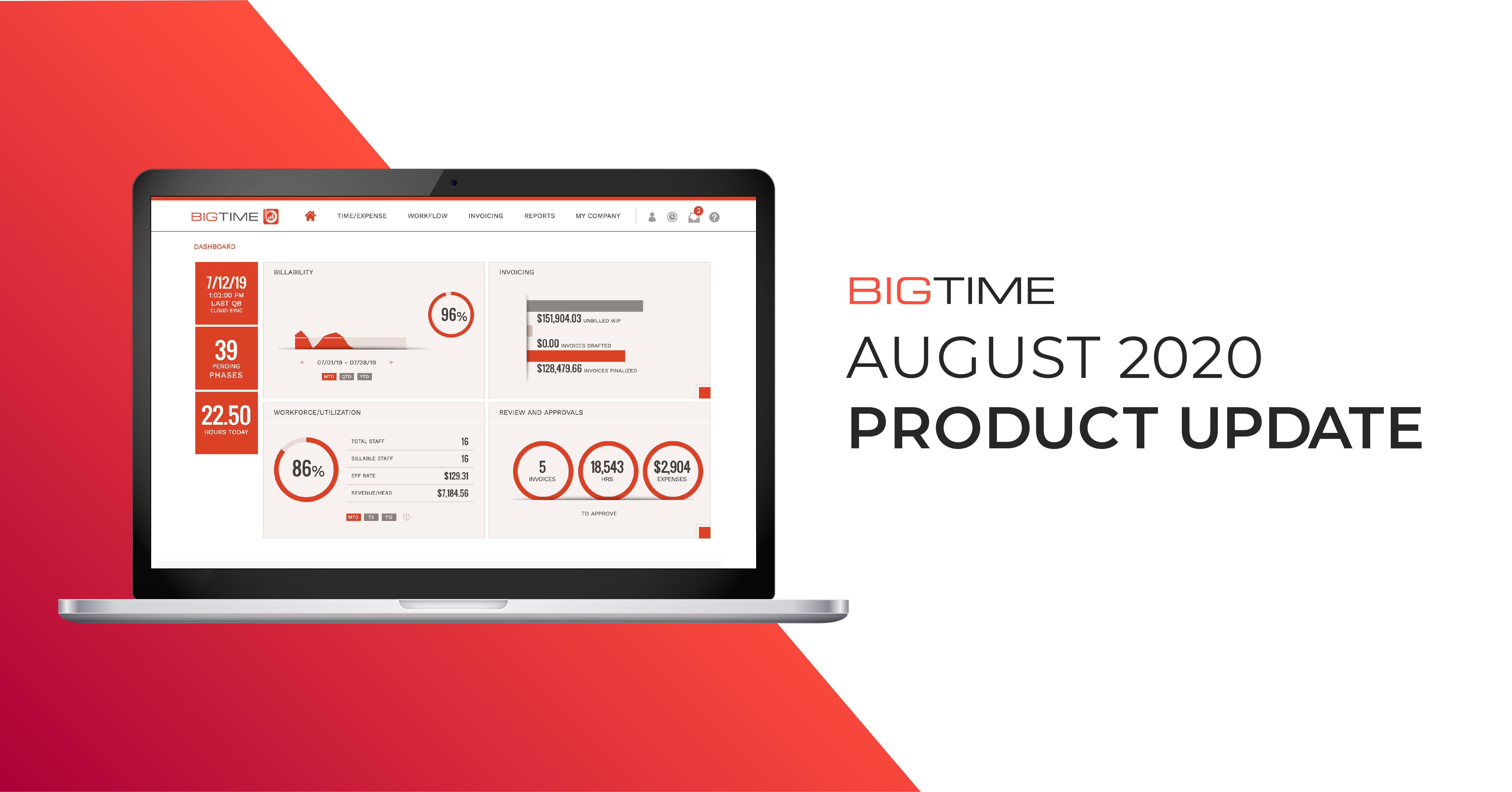 Customer feedback is invaluable when it comes to our monthly releases — making sure we are putting out the enhancements that make a real difference in your workday. Business needs are ever-changing, especially these days, and with each release we strive to not just meet those needs, but exceed your expectations.
Read on to see what all is new this August.
Task Follow-up Options
BigTime users have always had the ability to create tasks, but in this release, we have taken it a step further by simplifying the steps it takes to update the team on the status. Now, when a user marks a task as completed they have the option to select from several follow up actions:
Notify the team leadership that the task was completed
Notify the entire team that the task was completed
Notify the owners of any task linked to this one
Set project billing status and notify financial admin(s)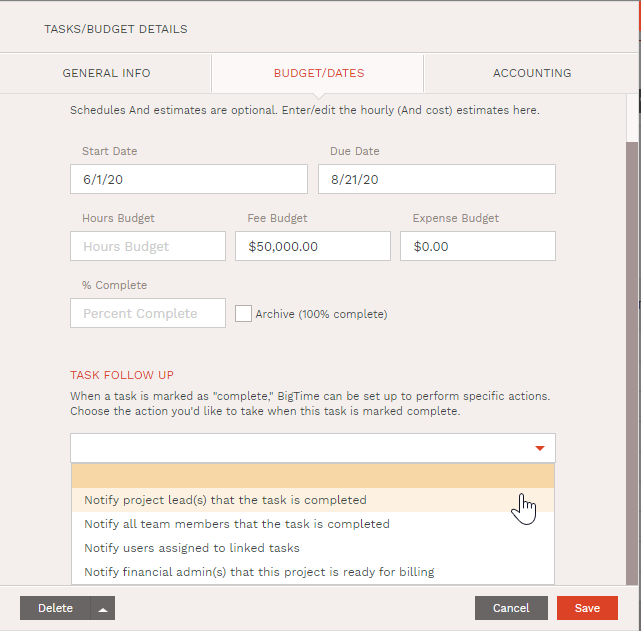 Display Task Start Date in Allocations
Within the Allocation Wizard, we made improvements to the visual display of a task's duration so it's easier to see the dates when tasks start and stop and shift things around when needed. Start dates for a task are now indicated with a green line, and the tasks period ends with a red line.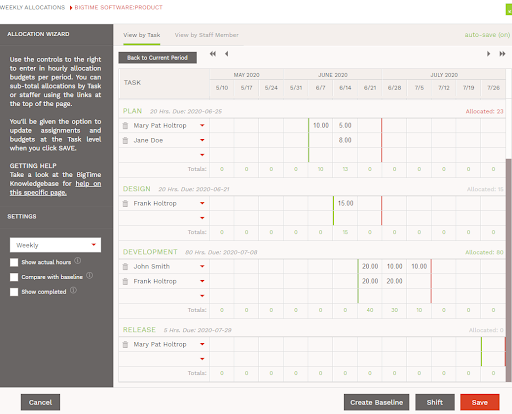 AutoSave on Invoices
Select to have autosave turned on throughout the invoicing process to give you peace of mind that when toggling between work your progress will not disappear without manually saving. This feature is configurable so that you can turn it on or off easily based on your working preference.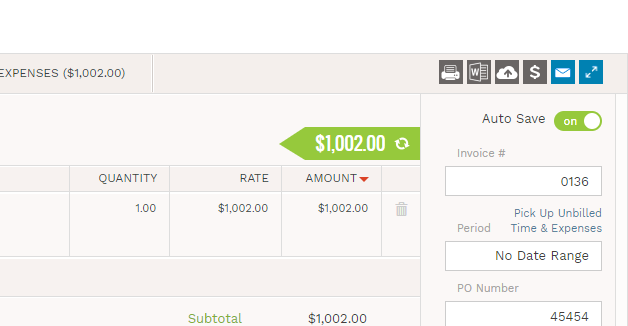 Restyle Invoice Email for Wallet Users
For firms integrated with our recently released BigTime Wallet, we have enhanced the email message/layout to match the custom payments landing page. The colors and branding the user has chosen in the payment settings will be reflected in the email message providing an additional layer of personalization and the same brand standards as the landing page.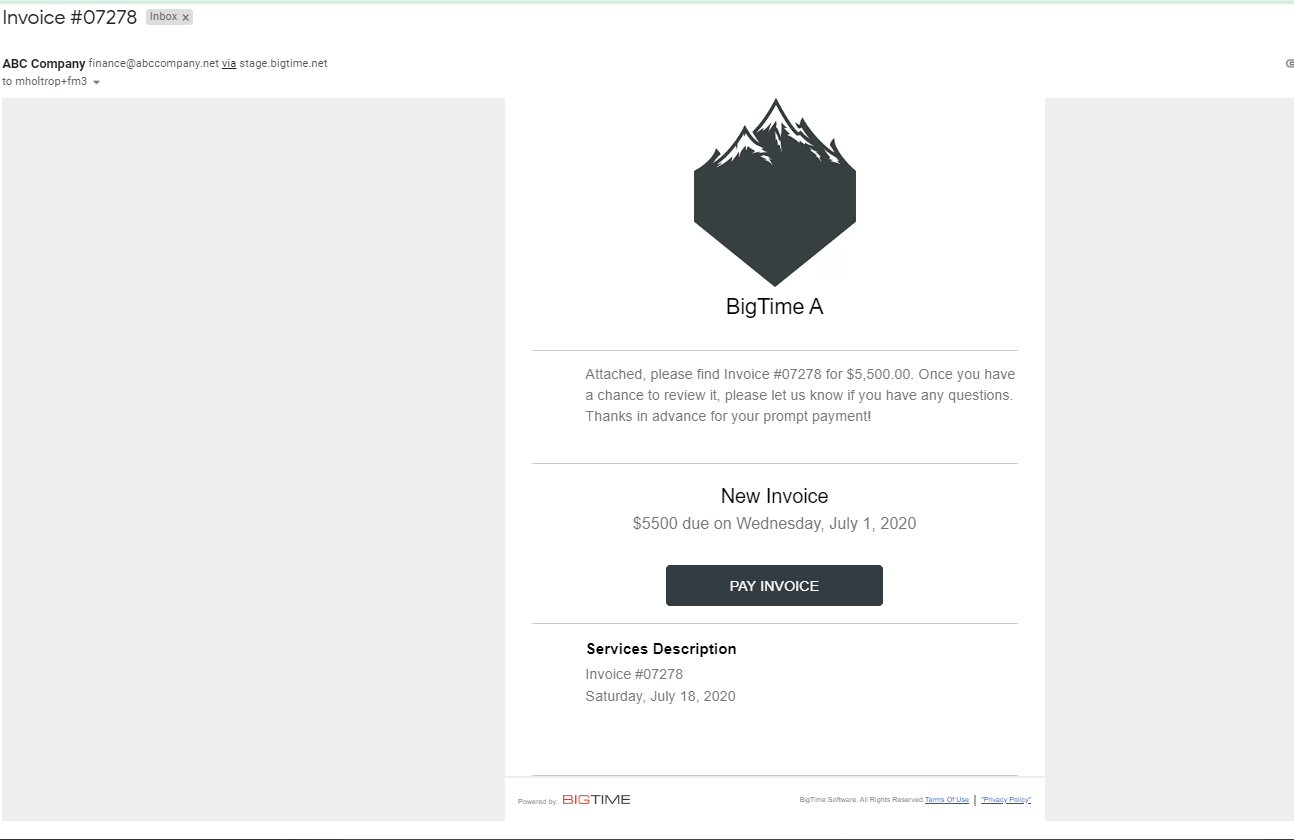 We didn't stop there. We continue to work with our customers to improve on features based on how they are being used today and functionality that saves time and effort. So, in addition to the new items in this release, we rolled out the below three enhancements.
Sorting Tasks on Allocation View by Staffer
On the Allocation Editor when Viewing by Staffer, the tasks will sort in the same order as they do on the Task Editor allowing the user to view their allocations in a clear, logical format. Knowing exactly where each task falls on the grid makes for a much more efficient process when allocating tasks.
Add Accounting Items to Task Editor
On the Task Editor, a user can include the Service Item, QuickBooks Class, and Fee Type expanding the options for sorting and viewing tasks.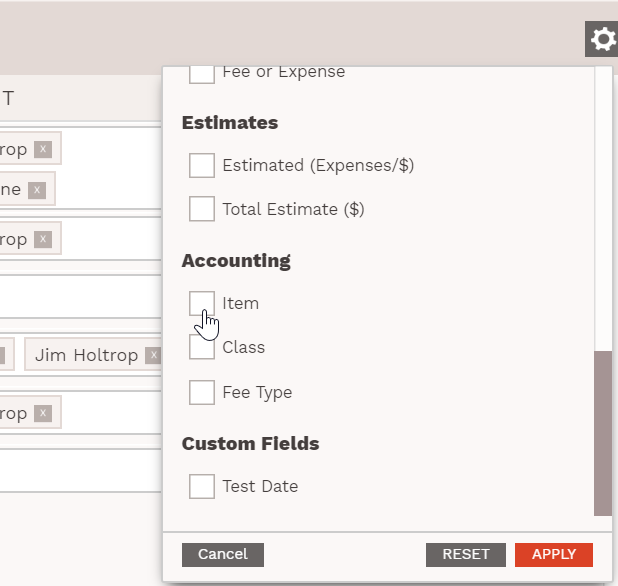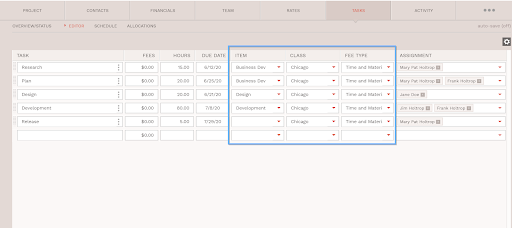 Option to Make a Credit Card Inactive
When a credit card changes or needs to be modified, instead of deleting the card information from BigTime you can click "This card is inactive" to deactivate the card, while maintaining the history of the card within your instance.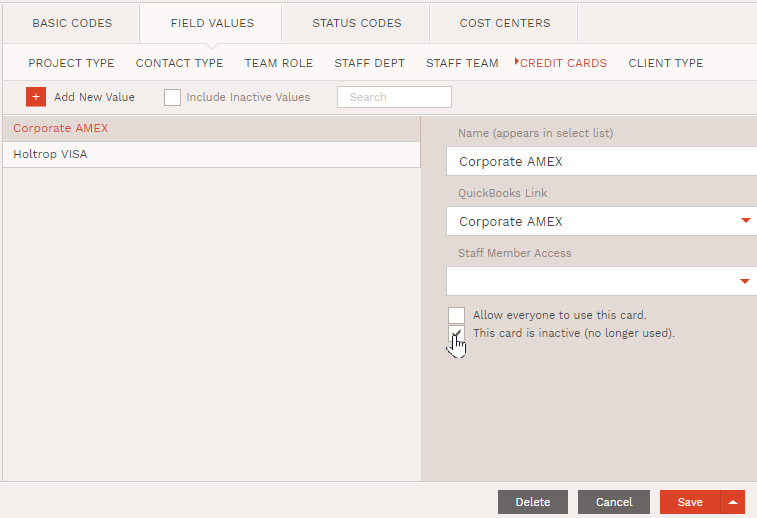 Lastly, reporting is an area that never goes untouched. This month we added "Deposit Balance" on project and invoice reports as well as allocated hours remaining on allocation reports.
P.S. Did you hear about our launch of BigTime Wallet, our new payment processing feature? If you're interested in seeing how you can get paid faster while lowering processing fees, check out our 20-minute walk-through of the new solution or get in touch with us for a personalized demo.